Welcome to the Manasquan Fishing Club
Important Notices and Upcoming Events
We meet at 7:30 PM the first Friday of every month at the Women's Club in Manasquan, NJ (62 Main Street).
2023 Meeting Schedule and Other Noteworthy Events
Black = General Meeting, Blue = Non-MFC related event, Gold = MFC related event
Upcoming Events/Dates:
December 1st 2023 - General Meeting - Election of officers
2024 Event Preview (Subject to Change)
January 5th 2024 - General Meeting - Speaker Topic TBD
February 2nd 2024 - General Meeting - Speaker Topic TBD
March 1st 2024 - General Meeting - Speaker Topic TBD

March 2024 - Annual Sinker Party
April 5th 2024 - General Meeting - Speaker Topic TBD
May 3rd 2024 - General Meeting - Speaker Topic TBD
June 7th 2024 -General Meeting - Speaker Topic TBD

June 2024 - MFC River Flue Tournament
July 5th 2024 - General Meeting - Speaker Topic TBD
July 2024 - MFC Ocean Fluke Tournament
August 2nd 2024 - General Meeting - Speaker Topic TBD
August 2024 - Manasquan "Big Sea Day" Youth Inlet Fishing Contest
September 6th 2024 - General Meeting - Speaker Topic TBD
October 4th 2024 - General Meeting - Speaker Topic TBD
November 1st 2024 - General Meeting - Speaker Topic TBD
December 6th 2024 - General Meeting - Election of Officers
Past 2023 Events/Dates (Reverse Chronological):
November 3rd 2023 - General Meeting - Speaker: Professor Adam Aguiar - Striped Bass Fishing.
Adam is an Associate Professor of Biology at Stockton University. His research group, Striped Bass Tagging for Stockton (SBTS), collaborates with the American Littoral Society to tag Morone saxatilis in south Jersey waters. They also scale- and tissue-sample our catches before release. These methods hope to provide insight into the migration, behavior, and stock origin proportions of the south jersey mixed migratory stock of this species.

He also leads an outreach program, New Angles for Success (NAS), which bridges the state's Hooked on Fishing; Not on Drugs (HOFNOD) program, his research group, and GNM class to different organizations in the local and regional community. NAS events include fishing activities and simulations, informative lectures on environmental resources and protection measures, and educational youth tutorials and games. Additionally, he is the co-creator of the Scientific Enrichment Academy at Stockton (SEAS) summer program, and a counselor for the Boy Scouts of America Merit Badge Academy.
October 7th 2023 - Intro to Fishing Clinic
October 6th 2023 - General Meeting - Speaker: Eric Bunz, General Manager of The Reel Seat Topic: Slow pitch jigging for Black Sea Bass
Labor Day Weekend (Friday Sept. 1 - Monday 4th) 2023 – MFC Ocean Fluke Tournament # 2 -
The weather cooperated and those willing were able to fish any or all of the
four days. The official results are:
1st Place – Jim Savage, 3.9 lbs.

2nd Place – Fred Truex, 3.8 lbs.

3rd Place – Luis Cadalzo, 2.23 lbs.

Largest Sea Robin – Bill Pollock, 13 in.



Congratulations to all the winners and a great big thank you to Chris Jewell for




organizing and managing the tournament.

September 1st 2023 - General Meeting - Eric Wasnesky -

Our guest speaker was our own Eric Wasnesky who gave a very excellent talk on Fall surf
fishing for Striped Bass. He explained that Stripers prefer moving water and how they
feel their way through the environment by vibration. Eric showed us how to read the
beach to put ourselves in the most likely spot where Stripers will be on the hunt. He also
told us how Striper fishing is affected by moon phases and the best time of day to fish,
what baits and lures work best when and how to present them. It was really a great
lesson and we all took a lot away to make us better surf fishermen. Fall Striper fishing is
best between Halloween and Thanksgiving so get ready. Thank you Eric, you did a great
job and taught us a lot!
August 5th 2023 (Saturday) - Manasquan "Big Sea Day" Inlet Fishing Contest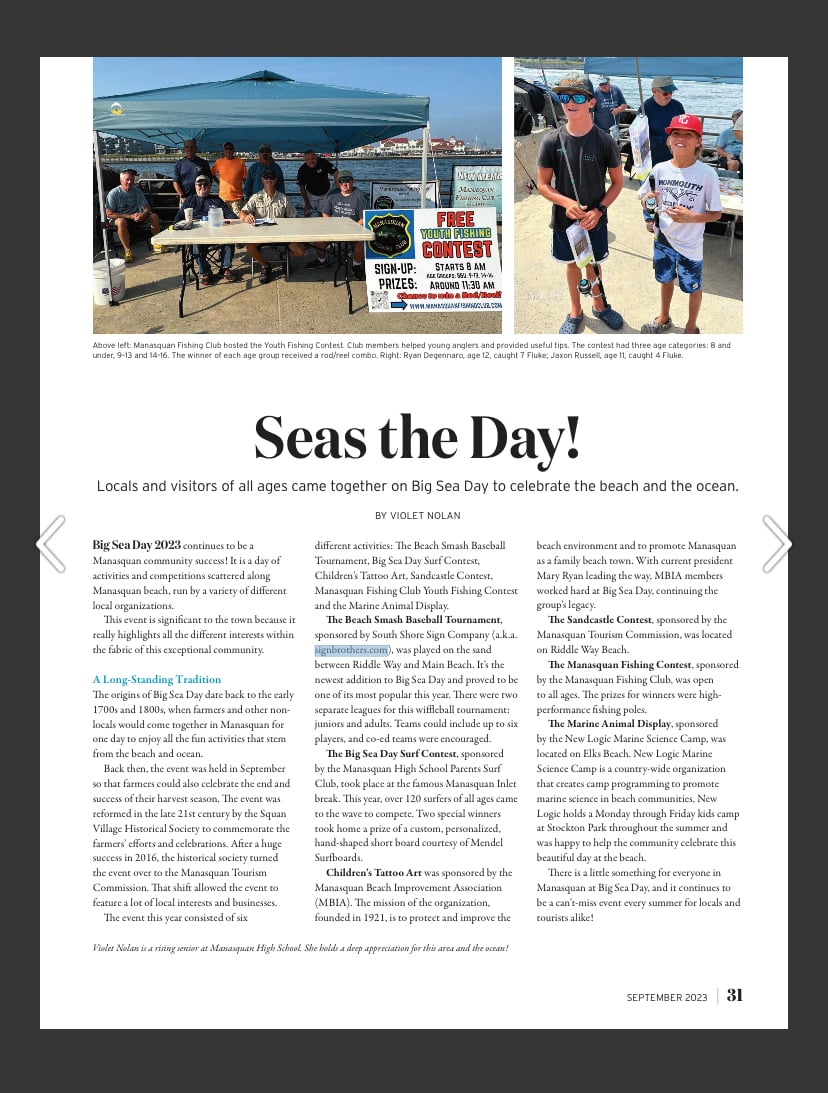 MFC Big Sea Day Youth Fishing Contest August 5, 2023
(Rear, left to right: John Sheehan, John Gassner, Bill Schwarz, Luis Cadalzo, & Paul Hennigan;Front, left
to right: Joe Choma, Jack Pongracz, & Bill Beck)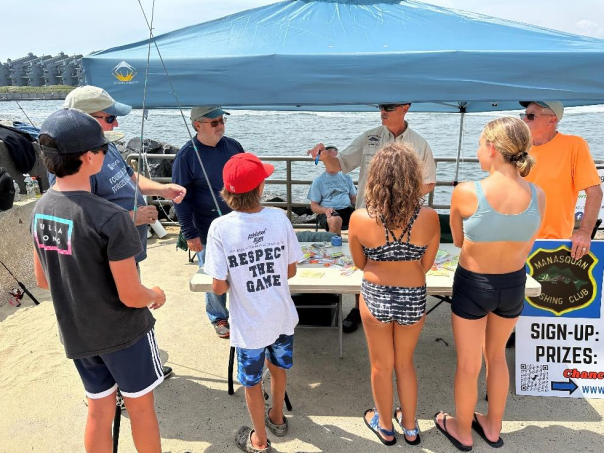 Contestants collecting their prizes at Big Sea Day.
August 3rd - 6th, 2023 (Thursday to Sunday) - JCCA "Heavy Hitters Fluke" Tournament
Tournament Dates August 3rd to August 6th, 2023. You choose the date to fish but you may only fish one day.
Win $25,000 for the largest fluke over 12 lbs if caught on 8/5/23.
Prizes based on weight of single fluke: 1st place $5000, 2nd place $2500, 3rd place $1500, 4th place gift cards/merch valued at $250, 5th place gift cards/merch valued at $150
Early Entry Fee $125 per boat (if postmarked by 7/26/23), Entry Fee $150 (after 7/26/23). Maximum 6 anglers/people per boat.
For additional info call Paul from JCAA at 973-943-8201 or the JCAA office at 732-506-6565. For entry forms, rules, and info, go to https://jcaa.org/tourney/FlukeHHRules.htm or visit their Facebook Page. Completed entry forms can be faxed to JCAA office: 732-506-6975 or mailed to JCAA, 1594 Lakewood Rd. Unit 13, Toms River, NJ 08755.
Online registration may be done through the JCAA Event page or through the Jersey Coast Anglers Association Facebook Page.
SPECIAL RULES FOR OUR DOORMAT FLUKE CATEGORY – IMPORTANT!
To be eligible for the $25,000 prize each entrant must email his name, his boat's name and the name of each of his crew members to our insurance company, SCA Promotions by 9 PM Friday, 8/4. Email the info to max.rhodes@scapromo.com and cc: anglerpmh@aol.com.
August 4th 2023 - John Tiedemann, Monmouth University, topic: Stripers in the Manasquan
July 13th 2023 (Thursday) – MFC Ocean Fluke Tournament -
Our Ocean Fluke Tournament, originally scheduled for Thursday, July 13th, was postponed to Thursday, July 20th, due to weather. The weather was much better on the 20th, but, remarkably, only 7 anglers competed. The prize winners were:
1st Place – Luis Cadalzo
2nd Place – Frank Cuccio
3rd Place – Paul Hennigan
The after-party weigh-in featured sandwiches from Jersey Mike's, they were delicious, but the fun is always getting together with the guys and sharing, what else, more fish stories. Congratulations to the winners and to all that competed. A special thanks goes to Fred Truex who very graciously invited members, up to 3, who wanted to fish the tourney, to join him aboard his boat, Dar Lyn. Fred did a great job finding the fish and, in fact, all tourney winners were fishing with Fred.
July 7th 2023 - General Meeting - Speaker Cancelled - We told our best fishing stories and had some good laughs.
June 17th 2023 (Saturday) - JCCA Fluke Tournament
The JCAA has scheduled its Fluke Tournament for Saturday, June 17th with awards presented on Friday, June 23rd. Please go to their website, JCAA.org, for more information.
June 13th 2023 (Tuesday) – MFC River Fluke Tournament -
Congrats to the winners. We had 16 anglers.
First place: Freddy Y (Past member) @ 2.94 lbs
Second place: Fred Truex @ 2.39 lbs
Third place: Luis Cadalzo @ 2.35 lbs
June 2nd 2023 - General Meeting - Speaker: Fred Truex Topic: Fishing Secrets
Fred Truex has stepped-up and volunteered to discuss "What I've learned to catch more fish and enjoy a day on the water." How often do you run across a fisherman that's willing to share his secrets? Fred is an absolute great fisherman, boater and great guy, so listening to him tell his experiences and learnings will be a fun time in and of itself. But it will also be sure to help us raise our game and make us better catchers and not just fishers, and have more fun trying. Nothing would be better than that!
May 6th 2023 - Manasquan P.B.A. Children's Fishing Tournament - 8 am to 1 PM Rain date is 5/7/23
https://www.manasquan-nj.gov/home/events/31851
This fishing tournament is hosted by the Manasquan Police Benevolent Association with support from MFC members. It is held at Macs Pond and is open to kids from 3 - 13 years old. Registration starts at 8:00 AM and the event wraps up about Noon after lunch and the presentation of awards. Typically, over 100 kids participate, so MFC membership is needed to help run the event. Please let Bill Beck know if you can lend a hand.
May 5th 2023 - General Meeting - Paul Shafer is speaking about his recent haddock trip out of New Hampshire.
April 7th 2023 - General Meeting - Prize Raffle Fundraiser and 2022 Fishing Awards at the monthly meeting.
Frank Cuccio will also discuss the MFC website and Social Media presence.
March 17th - 19th 2023 - The Saltwater Fishing Expo at New Jersey Convention and Exposition Center, 97 Sunfield Avenue, Edison, NJ.
The show will not only feature a huge number of products and vendors but a host of seminars and demonstrations, including our own Captain Jim Freda who will be speaking on "Jersey Striped Bass Blitzes; Make
Memories of a Lifetime" on Friday at 4:45 PM and "Inshore Bluefin and Yellowfin Tuna; Troll,
Jig, and Pop!" on Saturday at 12:15 PM. For more information, go to:
https://saltwater.sportshows.com.
March 4th 2023 - Manasquan Fishing Club Annual Sinker Party - Hosted at Dome Sheet Metal in Belmar.
All MFC members are free to join. You make your own sinkers and/or jigs with free lead, you just need to pay for hooks if you use them for your jigs. If you've checked on the cost of sinkers and jigs lately, you won't want to miss this. Also, our line winder will be back in action and at the sinker party so if you have a reel that needs new line, bring the line and reel and we'll spool it up for you.
March 3rd 2023 - General Meeting - Doug Zemeckis, Ph.D. topic: Wind Energy
March 1st - 5th 2023 - Atlantic City Boat Show at the Atlantic City Convention Center
February 3rd 2023 - General Meeting - Capitan Paul Eidman, topic: Forage Species and the work of Menhaden Defenders
January 6th 2023 - General Meeting - John Toth, Pres JCAA, topic: JCAA activities and angler issues
Fishing Reports
Member reports
Navigating November's Waters
October has always been a special time for the members of the Manasquan Fishing Club, and this year...
Our guest speaker was John Tiedemann, Monmouth University Director, Marine and Environmental...